Labs and Spaniels - led by Paul Apps

supported by paintings from Imogen Man, Nigel Hemming, Catherine Ingleby and Hazel Morganand sculpture from Tessa Pullan, Paula Jould Blake and Rosemary Cook
A great collection of gorgeous Springers, Cockers, Cavaliers and Labradors from some of England's foremost canine artists.
Opens 2nd September 2014.

Here Comes the Sun with Greer Ralston and Jean Haines SWA

It's been a wet and windy Spring but, finally, here comes the sun! A collection of beautiful paintings reminiscent of all our favourite things about the summer months. Beautiful blooms, active bird-life, buckets and spades on the beach, donkeys on the sand, racing at Ascot, sailing in the Solent, holidays in Italy and, most importantly, our four-legged frineds. Click Here to View Artworks.
A Walk on the Wild Side with Vicky West

Show Opens Friday 31st January

Vicky West captures those fleeting, telling moments that lay bare both the splendour and vulnerability of the animal world. Affection and respect shine through her brush strokes in equal measure but Vicky's work avoids the sentimental. Her ever vigilant eye seems to probe for what is coming next and creates an almost visceral tension.

The exhibition is centered around a series of paintings of the magnificent Maned Wolf, a wild dog unlike any other on earth. At first glance the Maned Wolf looks like a fox on stilts, a spectacular rusty red canid with long pointed muzzle that stands 3 feet tall and has incredibly long legs. Its body and behaviour have been shaped by 2 million years of life on the Brazilian Plains where it lopes along in the tall tropical grasses. Also included in the show are some of Vicky's leopards and giraffe as well as some chutzy runner ducks.

You can view the artworks here.

The Sporting Art of Debbie Harris
leads the Stockbridge Gallery Christmas Exhibition
starts 26th November 2013
Debbie is highly regarded in sporting circles for her country life paintings depicting dogs, horses and country sporting pursuits. She is possibly best-known for her hounds but also much in demand are her hunt, polo and equine paintings. As an associate of the Society of Equestrian Artists (SEA), she shows annually at the SEA exhibition in London and at Badminton and Burghley Horse Trials. Debbie's working methods vary dramatically from highly detailed dog portraits to 4ft square loose canvasses of horses and hounds in monochrome. She has created a wonderful new body of work for our Christmas exhibition and amongst our favourites are the brooding strength of 'Hound Frown' and the sleepy heads of tired hounds in 'The Morning After'.

In the gallery's Red Room we will be showing a selection of work by our other key portfolio artists including Dominic Gubb's much-loved Ropey Dogs and James Doran-Webb's stunning driftwood sculptures. James, whose artwork scooped best in show in the trade stand stakes at Chelsea Flower Show earlier this year, has created a trio of life-sized, driftwood greyhounds at full pelt and a gloroius driftwood Jack Russell.


'Moving On' by Louise Pallister

27th September - 1st November 2013
An exhibition of wonderful paintings and drawings in charcoal, acrylic and collage on paper by the very talented artist Louise Pallister. Louise makes mixed media drawings of animals using unusual angles and imminent movement to emphasise aspects of their physiology. She considers evoking the gist of the active animal to be more important than creating a detailed imitation of it. Her work indicates influences from cave art, through masters such as Leonardo and Stubbs to the more contemporary work of Elisabeth Frink and Nicola Hicks. Below is Prancing Horse. View all artworks by clicking here.

Summer Sensations by Jean Haines SWA SFP

An Exhibition of Watercolours
13th July to 14th September 2013
By popular request, Jean is back in Stockbridge to fill the gallery with colour and light throughout the Summer. The very thought of it is enough to lift the spirits.
Summer Sensations is now an annual event at the gallery and eagerly anticipated by collectors of Jean's paintings from all around the world. We are delighted to showcase her latest work and will be hanging an array of her immensely popular nature and wildlife paintings.
Above left: Loved (SOLD) and Below: Hampshire Hedgehog (SOLD)

Horse and Hound - showing until 31st May 2013
This month sees Horses and Hounds gathering once again to create a magnificent show at the gallery. Some of the UK's foremost equine and canine artists have come together to display sculptures and paintings of exceptional quality including: Marie Ackers, Mary Beattie Scott SEA SWA, Deborah Burt ASEA, James Doran Webb, Mark Hankinson, Hazel Morgan, Sam Sopwith, Jan Sweeney and Paula Vize.

The Driftwood Sculptures of James Doran Webb
showing until 28th March 2013
We are delighted to present the magnicent driftwood sculptures of James Doran Webb which wowed us from the first moment we set eyes upon them.
James has amassed an extensive collection of driftwood, each piece hewn by natural forces into a myriad of individual shapes from which he is able to select the pieces which best lend themselves to the natural form and shape needed for his animal sculptures. Thousands of hours in the making, every sculpture waits until the perfect piece of wood is found to provide the energy and reality he strives to give each of his creations. The result is a dynamic collection of work which highlights the power and vitality of all these beautiful creatures.
The sculptures are built upon a stainless steel armature to which the driftwood is then attached. The driftwood is found along the shorelines and riverbeds of the Philippines Archipelago and is from a number of indigenous species, all dense enough to withstand years and years of exposure to the extreme tropical climate. The sculptures are suitable for display indoors or out and James provides full installation and care instructions.
Click here to view artworks .
The Art of Recycling - Dogs in Art Christmas Show 2012
1st - 24th December 2012

We have drawn together a really interesting mix of innovative artworks to form the centrepiece of our 2012 Christmas show in Stockbridge. Paper, driftwood, rope and vintage fabric have all been recycled into attractive, appealing dog sculptures ranging from lifesized for the garden through to delicate little miniatures for the cabinet. In support of the recycled works our portfolio artists have contributed oils, pastels, watercolours, drawings and prints. The gallery is full of delightful pieces and a warm Christmassy welcome awaits you.
Kennel Club Art Gallery Christmas Art Fair
Monday 3rd December 2012 – 11th January 2013
On 3rd December the Kennel Club Art Gallery will once again be opening its doors to the cream of the UK's artists specialising in dogs as their subject. The art gallery, based in the Kennel Club's Clarges Street building, hosts the festive sale every two years and this year's will see a beautiful range of items on sale, including paintings, pastels, drawings, limited edition prints and bronze sculptures. We are proud to announce that the exhibition will include an impressive collection of works from artists represented by the Stockbridge Gallery.

Visitors are very welcome and the Gallery is open Monday to Friday 9.30am – 4.30pm. (closed 24-26 Dec and 31Dec-1 Jan inclusive). Located in central London, the nearest tube station is Green Park, which is a short walk away.
Reigning Cats and Dogs in association with SOFA

13 October - 3 November 2012
An exhibition of painting by Paul Apps

Thursday 9 August to Saturday 8 September 2012

Fur, Feathers and Florals - Impressions of Summer
An exhibition of painting by Jean Haines SWA SFP
Tuesday 3 July to Friday 3 August 2012

Dog GB - A Celebration of our British Breeds
An exhibition of painting by Claire Eastgate and sculpture by Rosemary Cook
13-31 March 2012
Funny Bone with lead artist Mychael Barratt

19th November to 24 December 2011

Designed to make you smile, this is a very light-hearted look at dogs and their owners.

Monochrome Magic with lead artist Ian Mason
14th June - 12th July 2011

The many shades of monochrome combine to create a diverse array of very arty contemporary dogs in this exhibition of canine painting, sculpture, photography and prints. Led by the work of artist Ian Mason, the exhibition also features artwork from Emily Burrowes, Dido Crosby, Camilla Gardner, Nina Harvey, Tor Hildyard, Zizi Lagadec, Laura Hardie, Nigel Hemming, Chris Pethick and Sam Sopwith.
Display of Affection - An Exhibition of Portraiture
2nd - 30th April 2011
A wide selection of dog portraiture from some of the finest portraitists of our time including sculpture, paintings and drawings. Some of the works are for sale whilst others are for display purposes only but if you are considering commissioning a portrait this is a great opportunity to check out a range of mediums and very different styles.
Pictured left is Echo by Mark Mitchard

Hound Dog Exhibition
7th March - 16th April 2011

A beautiful array of Foxhounds (and the occasional fox) featuring work by:
and the 19th century animalier Arthur Jacques le Duc.
Christmas Art Fair at The Kennel Club Art Gallery
2nd December 2010 - 7th January 2011
1-5 Clarges Street, Piccadilly, London W1J 8AB
Opened in 2003, The Kennel Club Art Gallery houses the most extensive collection of dog paintings in Europe and provides a centre of learning for all those wishing to research the dog in art. It is also a place of enjoyment for everyone interested in dogs. The collection features works by world renowned dog artists including amongst others: Maud Earl, George Earl, Richard Ansdell, Arthur Wardle and Cecil Aldin. Regular exhibitions take place at the gallery
The Christmas Art Fair is a selling exhibition featuring the work of a wide range of both well-known and emerging dog artists many of them from the Stockbridge Gallery cadre of artists.
For further information about the Christmas Art Fair, please contact the Kennel Club Art Gallery on 020 7518 1064 or by e-mail artgallery@thekennelclub.org.uk.
Best In Show – Gallery Christmas Exhibition
15th November - 24th December 2010

Modern Day Animaliers
3rd – 31st October 2010
Sam Sopwith, Georgie Welch and Kate Denton have long shown themselves to be masters of the animalier genre.
Without doubt they all manage to capture the anatomy, movement and sheer physicality of each animal quite perfectly; but what sets them apart is their ability to portray the very spirit of these wonderful creatures. Their powers of observation combined with their supreme artistic skill are breathtaking. Sam, Georgie and Kate have a loyal following of connoisseur patrons, many of whom were kind enough to contribute their artworks to the exhibition. Our sincere thanks go to them for their generosity.
Money for Old Rope - The Art of UpCycling by Dominic Gubb

13th June - 16th July 2010
Recycling at its very best! Dominic has always tried to unlock the promise of everyday materials and nothing at all in his studio goes to waste. In this exhibition his upcycled four-legged friends not only display wonderful form and movment but also the very essence of the canine character.
Dominic's witty, imaginative sculpture presents familiar items in an unexpected way and is sure to make you smile as he creates truly inspirational dog sculptures of all shapes and sizes using the most incredible range of everyday materials from old school climbing ropes through to supermarket carrier bags, french baguette papers and even plastic milk bottles. A selection of canine paintings by other gallery artists will also be on display.
Hare of the Dog
30th March - 30th April 2010

With a very welcome nod to the long-awaited Spring we mix lots of lovely hares with our canine friends to create a whimsical and quirky mix of artwork from the gallery's permanent cadre of artists.

Love Me, Love My Dog
14th - 27th February 2010

An exhibition of fine jewellery with a subtle and witty canine theme by Margaret Turner, Designer Goldsmith.


Margaret Turner is a prodigious talent renowned for her distinctive, sculptural jewellery designs. Her elegant pieces are beautiful works of art that transcend fashion and feature in many private and royal collections as well as in musuems throughout Europe. The exhibition will feature pieces from across her portfolio and will showcase her latest collection Love me, Love My Dog which she has designed for Stockbridge Gallery and which will be launched at our special Valentine's Day reception. A selection of dog paintings and sculpture by resident gallery artists will also be on display.
Not Just for Christmas
15th November – 24th December 2009
An eclectic and slightly whimsical mix of period and contemporary dog paintings, sculpture, ceramics and textiles all themed around the dog and selected with giving in mind.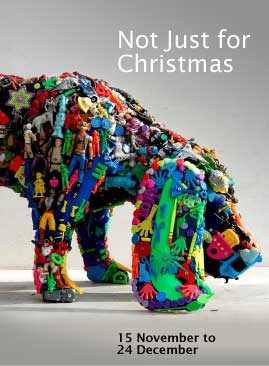 Born from the famous Dogs Trust strapline 'A Dog is for Life, Not just for Christmas' our Christmas exhibition not only showcases a great selection of dog paintings and sculpture but also sets out to raise a substantial sum of money for the Dogs Trust charity. The star of the show is Faith Hope & Trust whch has been painted and donated by Paula Vize.

Signed limited edition prints of the painting are available with all proceeds going to Dogs Trust. For more details of how to order click here Faith Hope & Trust by Paula Vize. For more details about the work of Dogs Trust click here.

Paula also has several other wonderful paintings showing in the exhibition.
Other contemporary artists represented at 'Not Just for Christmas' include Marie Ackers, Joy Beckner, Robert Bradford, Sue Britton, Olivia Brown, Thuline de Cock, Barry Daiper, Virginia Dowe, Aron Gadd, Camilla Gardner, Gitte Gibbons, Dominic Gubb, John Gustard, Justine Hadfield, Nina Harvey, Nigel Hemming, Victoria Hunt, Anne Marie Marshall, Belinda Matthews, Charlotte Moreton, Mary Ann Rogers, Sam Sopwith, Mark Smallman, Hannah Steedman, Pippa Thew, Georgie Welch, and Tony Uloth.
A Sporting Chance
11th October – 7th November 2009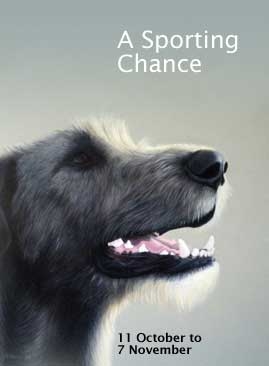 Slum Dogs of India, a collection of photographs by Eloise Leyden

20th September - 3rd October 2009

When photographer Eloise Leyden spent a year travelling around India, she became fascinated not only by the vibrant beauty of the land and the warmth of its people, but also by the country's sizeable population of stray dogs. Eloise's empathy with animals is captured perfectly in this set of colourful and touching images of dogs roaming the bustling city streets, scavenging in markets, basking on sandy beaches and sleeping just about anywhere. Different aspects of the dogs' daily life are chronicled: a sadhu feeds an eager pack of street dogs in Rishikesh, while a puppy snoozes in a hole he dug to escape the midday heat in Varanasi and, in Calcutta, a dog forages among the crows on an open rubbish tip on the side of the road. The photographs reveal the close bond that often develops between the dogs and their fellow street dwellers - humans and animals alike - and document the efforts of individuals and groups to promote the welfare of the strays. The images have been consolidated into a book, Slum Dogs of India published by Merrell. Signed copies are available from Stockbridge Gallery along with limited edition signed prints.