Labs and Spaniels - led by Paul Apps

supported by paintings from Imogen Man, Nigel Hemming, Catherine Ingleby and Hazel Morganand sculpture from Tessa Pullan, Paula Jould Blake and Rosemary Cook
A great collection of gorgeous Springers, Cockers, Cavaliers and Labradors from some of England's foremost canine artists.
Opens 2nd September.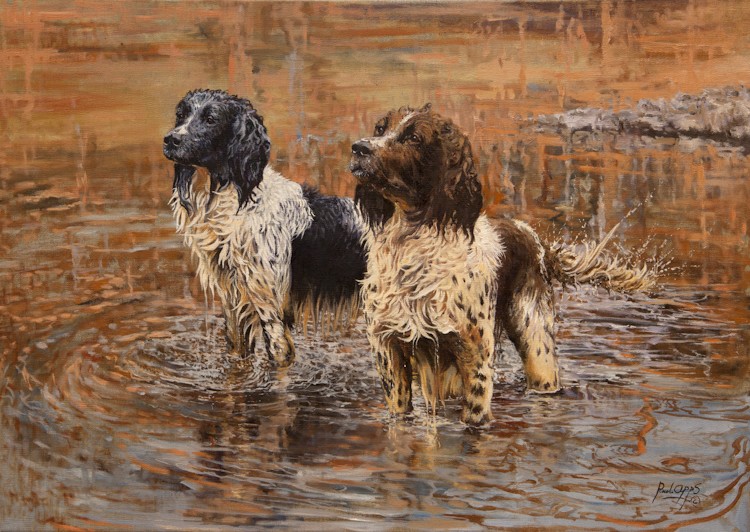 Here Comes the Sun with Greer Ralston and Jean Haines SWA

It's been a wet and windy Spring but, finally, here comes the sun! A collection of beautiful paintings reminiscent of all our favourite things about the summer months. Beautiful blooms, active bird-life, buckets and spades on the beach, donkeys on the sand, racing at Ascot, sailing in the Solent, holidays in Italy and, most importantly, our four-legged frineds. Click Here to View Artworks.
A Walk on the Wild Side with Vicky West

Show Opens Friday 31st January

Vicky West captures those fleeting, telling moments that lay bare both the splendour and vulnerability of the animal world. Affection and respect shine through her brush strokes in equal measure but Vicky's work avoids the sentimental. Her ever vigilant eye seems to probe for what is coming next and creates an almost visceral tension.

The exhibition is centered around a series of paintings of the magnificent Maned Wolf, a wild dog unlike any other on earth. At first glance the Maned Wolf looks like a fox on stilts, a spectacular rusty red canid with long pointed muzzle that stands 3 feet tall and has incredibly long legs. Its body and behaviour have been shaped by 2 million years of life on the Brazilian Plains where it lopes along in the tall tropical grasses. Also included in the show are some of Vicky's leopards and giraffe as well as some chutzy runner ducks.

You can view the artworks here.

The Sporting Art of Debbie Harris
leads the Stockbridge Gallery Christmas Exhibition
starts 26th November

Debbie is highly regarded in sporting circles for her country life paintings depicting dogs, horses and country sporting pursuits. She is possibly best-known for her hounds but also much in demand are her hunt, polo and equine paintings. As an associate of the Society of Equestrian Artists (SEA), she shows annually at the SEA exhibition in London and at Badminton and Burghley Horse Trials. Debbie's working methods vary dramatically from highly detailed dog portraits to 4ft square loose canvasses of horses and hounds in monochrome. She has created a wonderful new body of work for our Christmas exhibition and amongst our favourites are the brooding strength of 'Hound Frown' and the sleepy heads of tired hounds in 'The Morning After'.

In the gallery's Red Room we will be showing a selection of work by our other key portfolio artists including Dominic Gubb's much-loved Ropey Dogs and James Doran-Webb's stunning driftwood sculptures. James, whose artwork scooped best in show in the trade stand stakes at Chelsea Flower Show earlier this year, has created a trio of life-sized, driftwood greyhounds at full pelt and a gloroius driftwood Jack Russell.


'Moving On' by Louise Pallister

27th September - 1st November
An exhibition of wonderful paintings and drawings in charcoal, acrylic and collage on paper by the very talented artist Louise Pallister. Louise makes mixed media drawings of animals using unusual angles and imminent movement to emphasise aspects of their physiology. She considers evoking the gist of the active animal to be more important than creating a detailed imitation of it. Her work indicates influences from cave art, through masters such as Leonardo and Stubbs to the more contemporary work of Elisabeth Frink and Nicola Hicks. Below is Prancing Horse. View all artworks by clicking here.

Summer Sensations by Jean Haines SWA SFP

An Exhibition of Watercolours
13th July to 14th September

By popular request, Jean is back in Stockbridge to fill the gallery with colour and light throughout the Summer. The very thought of it is enough to lift the spirits.
Summer Sensations is now an annual event at the gallery and eagerly anticipated by collectors of Jean's paintings from all around the world. We are delighted to showcase her latest work and will be hanging an array of her immensely popular nature and wildlife paintings.
Above left: Loved (SOLD) and Below: Hampshire Hedgehog (SOLD)

Horse and Hound - showing until 31st May

This month sees Horses and Hounds gathering once again to create a magnificent show at the gallery. Some of the UK's foremost equine and canine artists have come together to display sculptures and paintings of exceptional quality including: Marie Ackers, Mary Beattie Scott SEA SWA, Deborah Burt ASEA, James Doran Webb, Mark Hankinson, Hazel Morgan, Sam Sopwith, Jan Sweeney and Paula Vize.